Why do you select CAFEC?
Message from CAFEC good pals
Coffee Tech Ltd
New Zealand
Mr. Alan Zuo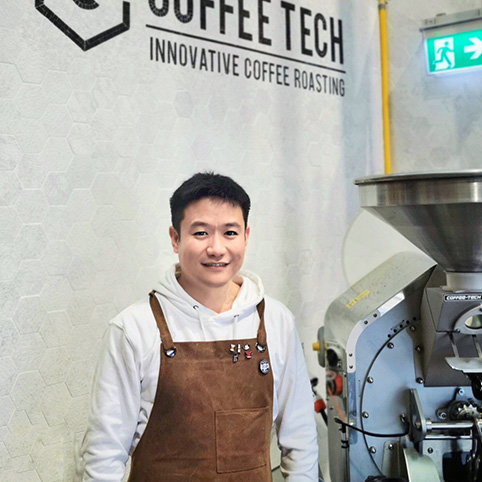 Coffee Tech Limited is an innovative, international, award-winning coffee company based in Auckland, New Zealand.
We use the Coffee Tech FZ94 Pro-Lab coffee roaster and CAFEC Filter paper to create full flavour profiles for each coffee. In the past year alone, we have roasted over a thousand batches, searching for the perfect taste profilings for each exclusive selection of coffee beans.
We find it crucial to bring out the unique personality of different types of coffee beans. It was exciting when we found CAFEC who offers many different types of speciality filter papers that help us to have total control of the flow rate, so it is possible to more fairly score different types of coffee beans.
By using CAFEC filter paper we have further innovated our way of coffee cupping. Of course we are, also, still using the traditional CQI Q grader cupping techniques to calibrate with other coffee cuppers around the world. Additionally, we are cupping each coffee again with each different type of CAFEC Specialty filter paper to discover more fine and accurate cupping results. It is a milestone in our progress to find the tiny micro differences between the similar coffee lots.
We are honored to be the distributor of CAFEC in New Zealand, so we can share this innovative way of cupping with other Q graders, coffee roasters and coffee lovers.
Also, We are cooperating directly with many COE & BOP winner coffee farms from different origins to carefully select the best coffee from around the world. We are paying US$2568/lb (BOP 2021 Rank #1) this year to get the best possible coffee regardless of price. It was vital for us to find the world's best coffee filter paper to match the world's most expensive coffee. With CAFEC we have found the perfect filter paper.
Company Profile
| | |
| --- | --- |
| Company Name | Coffee Tech Ltd |
| Address | 23/9 Chonny Crescent, Manurewa Auckland 2102, New Zealand |
| TEL | +64 21399567 |
| E-mail | |