Why do you select CAFEC?
Message from CAFEC good pals
CAFEC Ambassador
Japan
2019 JHDC & JBrC Champion
World Brewers Cup 2021 2nd place
Mr. Daiki Hatakeyama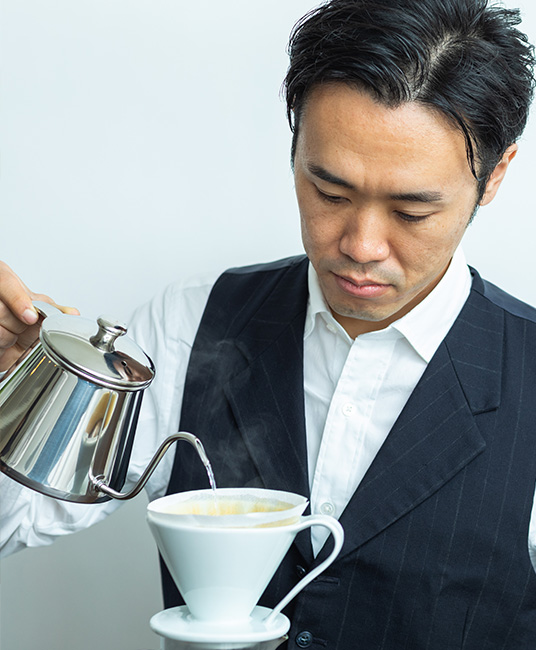 "I want to make a cup of amazing coffee" - This is always my motivation.
For the roasting, I think it is important to bring out only good characters or potential of coffee beans; that is, NOT to bring out negative taste. For example, though we just put the taste of coffee in one word as "acidity" or "bitterness", but I think there are the polarity of taste in the same words "acidity" and "bitterness"; good or bad. I always try not to bring out bad taste, then I add some adjustment according to customers' taste.
As a first impression of CAFEC, I think that the material and the shape of CAFEC products are very good to me. I could brew out my best taste with CAFEC equipment; it is well-made on ribs' shape and length, paper material etc. It is really easy to use for me.
"Why they are so user-friendly?"- I studied the details and found some different parts from other products.
Among them, CAFEC paper filter is amazing! I really saw the light to realize "the quality of paper have a significant impact on the taste of coffee!" And more, I can easily controll my brewing with all CAFEC equipment. This is also one of the attraction for me.
I played the 2019 JHDC and JBrC with CAFEC equipment.
Thanks to that, I am appointed to be the CAFEC Embassador, and had several chances to talk with the CAFEC CEO Mr. Nakatsuka. After talking with him, I knew well his passion and strong preference to coffee then I became to be more deeply attracted to the CAFEC products; I feel "I knew it!"
In fact, I think there is little equipment which is made with deep thought. But First, I just thought "it might be made with some thoughts" but after using them many times I found they are really easy to use. Then I believe firmly that the CAFEC products are made fussing over details, and more, after knowing the background of CAFEC and Mr. Nakatsuka, I understand well as "I knew it!".
Among my customers and the attendees of my coffee seminars, there are many people who think "I love coffee but do not know it well" or "Must brew coffee following the manual exactly". But I think you can enjoy brewing coffee as you like, so I want to push all coffee lovers' back to take their first step by telling the message "you can enjoy coffee more freely! 
"Happiest smile over coffee ahead of there" I heard this is the brand concept of CAFEC. Mr. Nakatsuka always emphasizes that "Brewing coffee is not difficult. Just understand its theory and just use a proper equipment, then everyone can brew tasty coffee easily. We want everyone to enjoy a cup of delicious coffee brewed easily at home". From now on, I will do my best to spread this message together with CAFEC!