Why do you select CAFEC?
Message from CAFEC good pals
HR COFFEE EQUIP
Panama
Mr. Carlos Alejandro Mosquera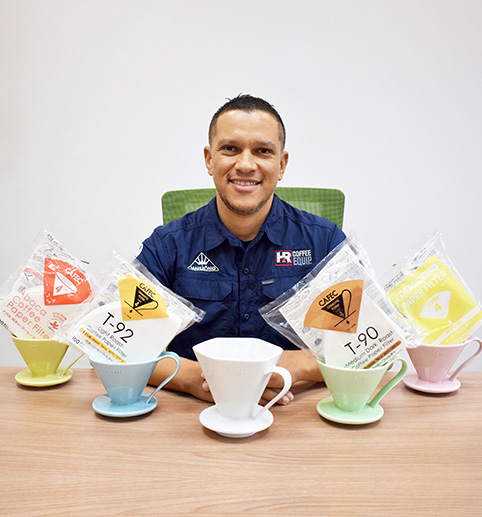 We are happy to represent the CAFEC®️Japan brand. We are passionate about coffee and Panama`s Geisha Coffee here in HR COFFEE EQUIP.
Filtering our coffee with the Paper and Flower Drippers filters has been the best experience, resulting in a clean and sweet cup of coffee with the majority of the Panamanian and Central American coffees that we tested. Henceforth CAFEC®️ has made a big difference in the quality of paper coffee filters. Each day more coffee lovers, baristas and coffee connoisseurs improve coffee brewing methods. We are honored to be able to enjoy one of the best cups of coffee in the world originating from this area of Panama through which we can enjoy various coffee processes and variants, such as the different microclimates of the lands where our coffee grows.
The contributions and developments that CAFEC Japan have provided have resulted in great progress for our culture and growth in the experience of brewing and serving a good cup of coffee. All this development has greatly inspired us to reach beyond our borders and transmit to our neighboring countries our passion for coffee and the idea that they can brew their everyday coffee with the best coffee filters and drippers from our friends at CAFEC®️Japan.
Today we can say that we have a great future ahead of us in the world of coffee in Panama and around the world, and we will continue to strengthen good relations and to share knowledge with all coffee lovers in Panama and Latin America.
Company Profile
| | |
| --- | --- |
| Company Name | HR COMMERCIAL SUPPLIES, S.A. |
| Address | El Cangrejo, PH Torre Luxor 300. Panamá. City. Panama. Office 1 HR Commercial Supplies. |
| TEL | +57 6550 5960 |
| URL | |