Why do you select CAFEC?
Message from CAFEC good pals
Kohiraifu
Netherlands
Mr. Edmond Chu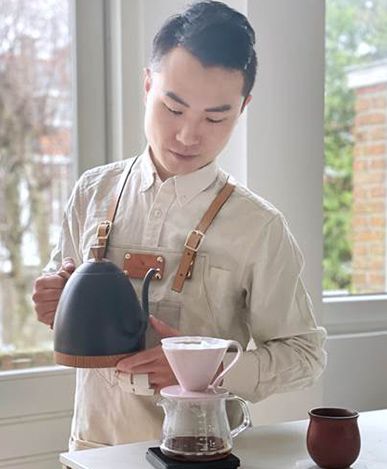 I'm a coffeeholic. It is often said that coffee brings excitement and refreshment. I do agree with it, but I think this just describes a part of coffee. Drinking coffee is not only about refreshing, nor is it about rushing. The taste and brewing methods of coffee are full of variety, and sometimes we just need to taste it slowly. The same applies to life, which we need to slowly enjoy and taste.
Kohiraifu is a Dutch company with the mission of promoting high-quality coffee. The name is taken from the Japanese "Coffee Life" and is influenced by the Japanese drip coffee culture. We hope to bring this trend to the Netherlands, so that every Dutch can brew high-quality coffee easily at home and can be extremely satisfied and happy in the process of making and tasting coffee. Our vision matches with CAFEC's philosophy: we both promote a high-quality lifestyle.
My first encounter with CAFEC stems from a light blue Flower Dripper. This dripper reminds me of nature, freedom, vitality, blue sky with white clouds, and I immediately fell in love with it. Unlike espresso, it brews a mild, sweet and distinctive taste with rich levels. More specifically, the Flower Dripper series is extremely colourful and beautiful in appearance, reminding me of the Dutch tulips. We believe that the Dutch must love these drippers because this also represents the Dutch culture to a certain extent.
In recent years, the filter paper developed by CAFEC is unprecedented, bringing magical effect to brewing coffee. There is a growing trend for coffee lovers in Europe to choose single-origin coffee, and CAFEC filter paper simply helps us to perfectly extract the unique flavour contained in the coffee. This is an epochal product that will bring about a vast and profound impact!
We are very excited to be a partner of CAFEC and bring its products to Europe, so that everyone can brew unique and excellent coffee at home.
Company Profile
| | |
| --- | --- |
| Company Name | Kohiraifu |
| Address | Van Watervlietstraat, 2274JZ, Netherlands |
| Tel | +31 6 84 03 38 83 |
| URL | http://www.kohiraifu.com |