Why do you select CAFEC?
Message from CAFEC good pals
MOLA Coffee
China
Mr. Rifa Lin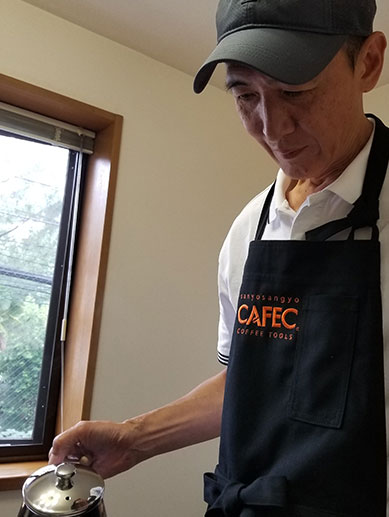 The first time I met Sanyo Sangyo was about 10 years ago.
Although I was running one Chinese restaurant called "敦煌" at that time, I was expecting that the age of coffee will surely come in near future.
At first, I was planning to sell instant drip-coffee in China. While I was looking for a manufacturer of drip-coffee, I met Sanyo Sangyo.
I told Mr. Nakatsuka that I want to import drip-coffee from Japan and sell them in China, but the advice he gave me was, "what important for coffee is FRESHNESS. If you want to provide really delicious coffee, you should roast coffee beans at your company so that you can bring fresh coffee to people in China. And more, you should provide good quality paper filters and equipment to your customers."
Hearing his advice, I made a decision to found a company which provide own roasted coffee beans and coffee equipment.
I learned roasting at Sanyo Sangyo in Japan and started to sell Sanyo's coffee equipment. I have developed sales channels in China from the very first. At that time, coffee was not still well known in China, so developing sales channels from zero was a really hard job. However, delicious own roasted coffee beans and Sanyo Sangyo's great quality equipment, especially the paper filter which is the best quality in the world, helped my business a lot. Thanks to them, now MOLA becomes a famous brand in China.
4 years ago, Sanyo Sangyo founded the original brand "CAFEC".
Because the brand name MOLA is now well known in China, we do marketing by using the name "MOLA x CAFEC" in our country.
Already 10 years have passed since I fascinated by the quality of Sanyo Sangyo's paper filter, the coffee brewing method of Mr. Nakatsuka "CAFEC Osmotic Flow" and his passion. I wish we continue to provide delicious coffee to much more people in China together with CAFEC.
Company Profile
Company Name
重庆尚轩工贸有限公司
日本三洋产业分公司
MOLA Coffee
Address
中国重庆市渝北区紫园路200号奔力酒店二期5楼MolaCafe
No.2-5 Blvd., Benli Hotel, 200 Ziyuan Rd., Yubei, Chongqing, China
Tel
+86-2363835883