Why do you select CAFEC?
Message from CAFEC good pals
CAFEC Ambassador
Japan
JHDC 2022 Champion
Mr. Shun Kurosawa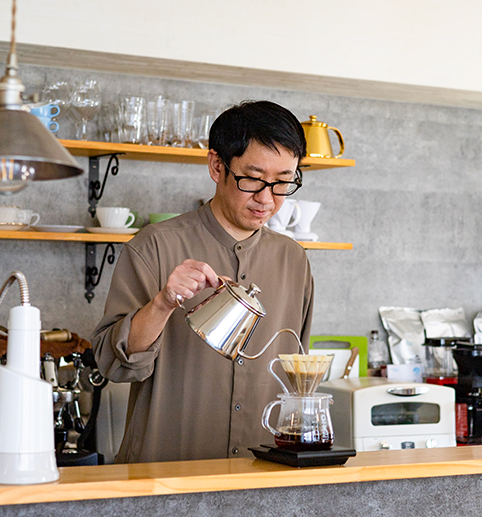 Originally, I couldn't drink coffee, but it was my encounter with specialty coffee that brought me to who I am today and the reason I was able to open a café. The image of coffee that I had in my mind changed completely after I tasted specialty coffee. It was amazing!!
However, it needed several years for me that I met the CAFEC brand.
After opening my shop, I was constantly searching for better brewing methods and better equipment. Usually, everyone focuses mainly on the dripper, but one day, I heard that there is a great paper filter, and it was turn out to be the CAFEC Abaca filter. The color, texture, and above of all, the scent was completely different from the paper filters I had been using. It doesn't have the paper smell, and because of the Abaca fiber, the texture is also fine. What surprised me most of all was the smooth water flow!!
This surprised me because I had assumed that all paper filters were the same. From that day onwards, I started using the CAFEC products. Eventually, I was able to win the JHDC 2020 (Japan Hand Drip Championship) held in 2022 using the CAFEC flower dripper and Abaca paper filter.
After the victory, I had the opportunity to talk with President Nakatsuka, and I felt his strong passion for CAFEC and coffee. He said, "I want many coffee lovers to enjoy really delicious coffee at home!". Just like he said, the equipment and paper filters are designed with so much thought that everyone, even the beginners can enjoy a delicious cup of coffee easily.
I am impressed by president Nakatsuka's thoughts and efforts behind each CAFEC product. Therefore, I would also like to continue to convey the appeal of delicious coffee to as many people as possible by using the CAFEC equipment.
Company Profile
| | |
| --- | --- |
| Company Name | PORTERS COFFEE |
| Address | 〒190-0021 Tokyo, Tachikawa, Hagoromo-cho, 2−45−10 Machida Building 1F |
| Tel | 042-512-8689 |
| URL | |