Why do you select CAFEC?
Message from CAFEC good pals
Sajjad Specialty Coffee
Iran
Mr. Sajjad Navader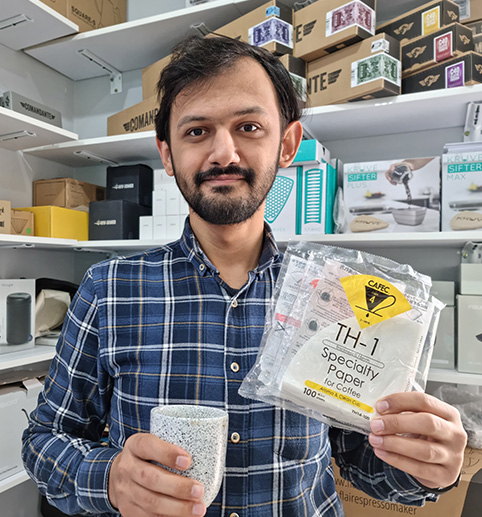 I started my journey of Specialty Coffee in Iran with a small bag of Rwandan coffee gifted from a roastery from Poland, 6 years ago!!
I used tissues as a coffee filter because I had no money to buy a good and standard dripper and papers!
But it makes me a self researcher of specialty coffee in Iran! After that I read about what's going on in this industry! My interest in specialty coffee has grown and makes me one of the biggest fans of it in Iran. People called me about which coffee is better to use in competitions! Made me strong and strong!
My vision is to present the best cup of specialty coffee in Iran and lead people in this industry.
Cafec is one of those essential accessories that gives you the best coffee you ever had.
You can choose the best paper your coffee needs.
After I met the Cafec team, especially Mr. Shigeji Nakatsuka at WOC Dubai in person, I learned how important knowledge and professions and passions are in brewing coffee...
I hope I can be the best leader of Cafec in Iran, along with other specialized accessories that I'm representing in my lovely country, IRAN.
Company Profile
| | |
| --- | --- |
| Company Name | Sajjad Specialty Coffee |
| TEL | +989381108864 |
| URL | |