Why do you select CAFEC?
Message from CAFEC good pals
Taiwan Sanyo International Co., Ltd.
Taiwan
Mr. Shang Hsieh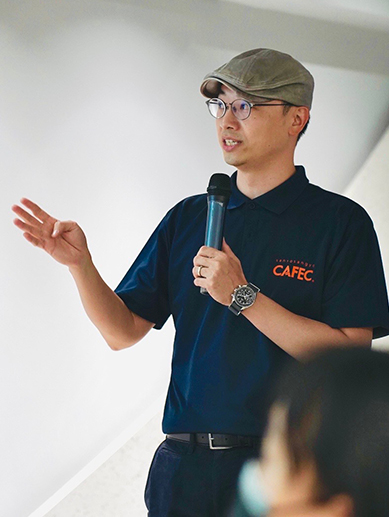 I believe in the potentiality of CAFEC.
Because it is the brand born from Mr. Nakatsuka's passion, "hope every coffee lover to enjoy a best taste of coffee easily at home!"
Sanyo Sangyo has nearly 50 years of history, it is a general coffee related company providing from roasted(roasted?) coffee to coffee related tools.
CAFEC is the brand born from Sanyo's passion: Mr. Shigeji Nakatsuka, the president of Sanyo, always has his ambition to let as many as people enjoy their happy time with a best taste of coffee and let them know it is not difficult and everyone can brew coffee by a good equipment easily at home.
This year, I visited Sanyo's factory and honor to know Mr. Nakatsuka's passion and their inquiring mind to quality.
Sanyo is the pioneer of paper filter manufacturing, and it has the strong preference for the quality of paper filter. Though normal paper filter has crepe only on one side, but Sanyo's paper quality is "Two-Side Crepe" for smooth brewing.
Further, CAFEC flower dripper is designed to bring out maximum volume of coffee good essence in coffee liquid not only by its beautiful appearance.
Besides the products themselves, Mr. Nakatsuka performs services to educate people how to pour over easily by CAFEC products in order to promote pour over culture in the world. Though it is a small thing, but it is a key and import factor! I believe.
All the CAFEC products are designed from users' viewpoint: I think this is the glam of CAFEC and the main reason I select CAFEC.
Company Profile
Company Name
台灣三洋國際有限公司
Taiwan Sanyo International Co., Ltd.
Address
台北市士林區承德路四段242號3樓
3F., No. 242, Sec. 4, Chengde Rd., Shilin Dist., Taipei City 111052, Taiwan (R.O.C.)
Tel
+886-931810503