Why do you select CAFEC?
Message from CAFEC good pals
Xtracted Coffee Solutions
Cambodia
Mr. Harry Ladopoulos
Ms. Lisa Borami VIN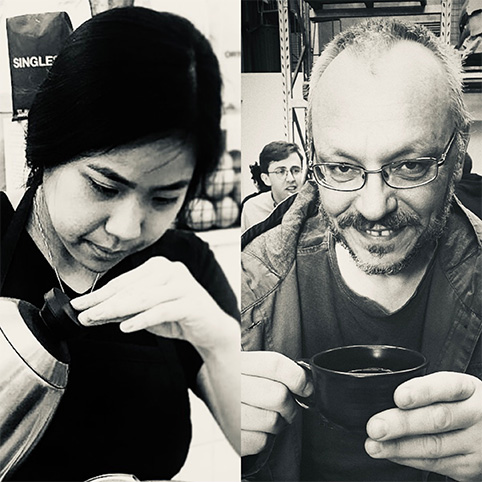 Since 2015, and in Melbourne at the time, Lisa and Harry started actively engaging in the coffee industry, making and roasting coffee, managing and running cafe shops and a coffee roastery, providing education and training in "all things coffee". Guided continuously by the international movement of specialty coffee and third wave philosophy we decided now, based in Cambodia this time, to get our hands and source coffee quality equipment from around the world and create a platform that gives our Cambodian customers the opportunity to explore interesting pure coffee flavours and aromas as well as methods for their daily brewing, elevating the process to a kind of ritual.
We find ourselves closely aligned with the CAFEC philosophy which is inextricably connected with specialty coffee. We fell in love with the know-how and the work the CAFEC team has done on developing unique, scientifically and by experience approved high quality crepe paper filters that are made to help you achieve the best quality on coffee brewing resulting in a cleaner and tastier coffee. This also combined with their flower dripper design that facilitates the correct flow during your pour over we believe we are ready to offer our customers the best complete answer for a delicious cup of coffee experience.
Both CAFEC and Xtracted Coffee Solutions promote sustainable coffee culture based on innovation, reliability, healthy partnership and eco-friendly approach.
Company Profile
| | |
| --- | --- |
| Company Name | Xtracted Coffee Solutions |
| Address | Antique Cafe (Inside Wat Phnom Historical Site), Khan Duan Penh, Phnom Penh, Cambodia |
| TEL | +(855)12864546 |
| URL | |