Special Interview with
DAIKI HATAKEYAMA
Japan Hand-Drip Championship 2019 - Champion
Japan Brewers Cup 2019 - Champion
World Brewers Cup 2021 - 2nd place
Host by SHIGEJI NAKATSUKA
The champion of the JHDC 2019 (Japan Hand-Drip Championship) and the JBrC 2019 (Japan Brewers Cup) is the same man, Mr. Daiki Hatakeyama of "Bespoke Coffee Roasters". This is the great work of him and he is the first man who achieved two crowns!!
And more, to our joy, Mr. Hatakeyama went into the championships by using CAFEC products.
This time, the CEO of Sanyo Sangyo, Mr. Nakatsuka have an interview with him and hear about all coffee story of him.
*After this interview, he won second place in World Brewers Cup 2021.
A little job request
changed my life dramatically.
Nakatsuka

Congratulations for you to achieve the two crowns! To the best of my recollection, it is the first in history so it is become a topic in our coffee world.

Hatakeyama

To be honest, besides the JHDC and JBrC, I also attended the JCTC (Japan Cup Tasters Championship). I really wanted to achieve the three crowns but cannot…

Nakatsuka

First of all, please let me know how you met with coffee?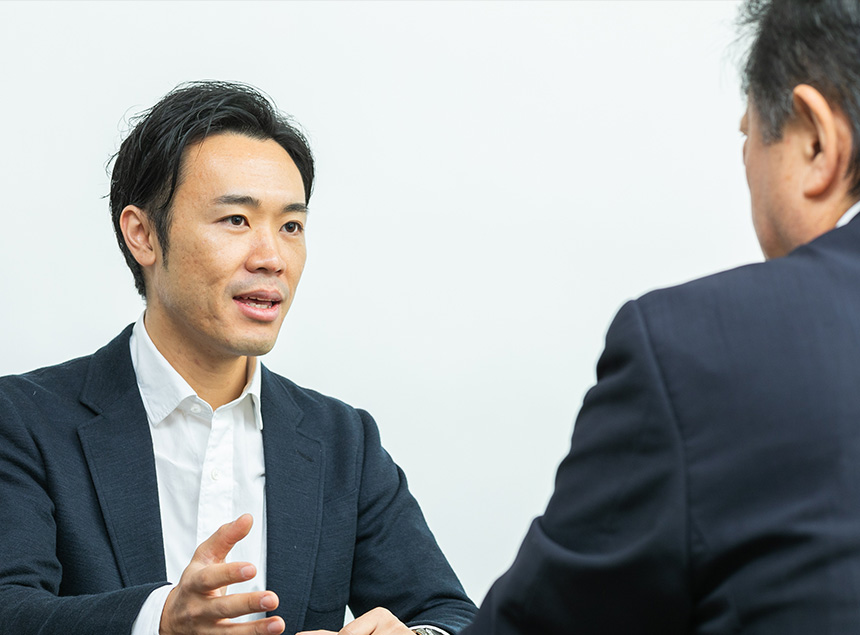 Hatakeyama

I used to work as a company employee, but for some reason I quitted my job once and intentionally made time to do nothing; I spent almost all my time in home. One day, I was asked to go to one coffee shop to buy coffee where my parents love to go, at that time I never dreamed this opportunity became the beginning for me to meet a real coffee!
I became more and more interested in coffee itself while visiting the roaster many times and having talks with them. Though I was still a layman about coffee, but I felt the taste and the quality of the coffee served by them was clearly different from normal coffee on the market. I really like delicious food and beverage so I thought I already knew what the deliciousness is, but the taste was very shocking to me. Then I knew first that coffee is really profound. After that I started to brew hand-drip coffee by myself, then I become to like coffee more and more.
On one occasion, the café owner told me about their new shop and invited me to join them. This was my first chance to enter in this coffee world.

Nakatsuka

I was not so interested in coffee either when I was a student, so what I always ordered at café was a mixed juice, hahaha...
But since about ten years ago, a higher quality coffee named Specialty coffee has become popular in Japan. Though I was already in the coffee world at that time, but I knew the real coffee first after meeting with the Specialty coffee.
Hatakeyama

At the start, I thought just to have a look-in but deeper I engaged in coffee, the more I came to pursue a better taste. Even now, I cannot forget the amazing taste when I first tried one top-level coffee.
Around that time, I was also crazy about shoe polishing… If you buy top-level shoes, it may need hundreds of thousands of yen. However, in case of coffee, even if it is the best grade coffee, you can buy it with tens of thousands of yen per 100g. In view of pricing also, coffee has a power to attract me.
Like this, I got absorbed more and more in coffee and continue to pursue my best coffee.

Nakatsuka

Since got my present job, I always think "with what kind of coffee equipment everyone can enjoy coffee at home easily?", and at last I got it! We launched our own brand "CAFEC" three years ago. The CAFEC is the crown of my dream.
By the way, you do not have your own shop. You have any special reason for that?

Hatakeyama

I am selling my roasted beans to consumers on net, and also wholesale to companies only when required. I do not brew coffee at any shop. To continue one thing is foreign to my nature, so I prefer to roast beans as a freelance roaster rather than staying in a shop whole day. It is my way to take part in coffee without any pressure.

Nakatsuka

How you spend a day usually?

Hatakeyama

I am always thinking about coffee only, hahaha…
Get up in the morning, I brew my coffee first of all. My breakfast is coffee only. I use different beans every time; my own roasted beans or other beans … for my study, sometimes I buy roasted beans from other roasters.
I enjoy coffee all day according to my feeling, such as, light roasted coffee in the morning, and medium-dark roasted coffee in the evening.
"Custom-made" coffee to value
each customer's preference.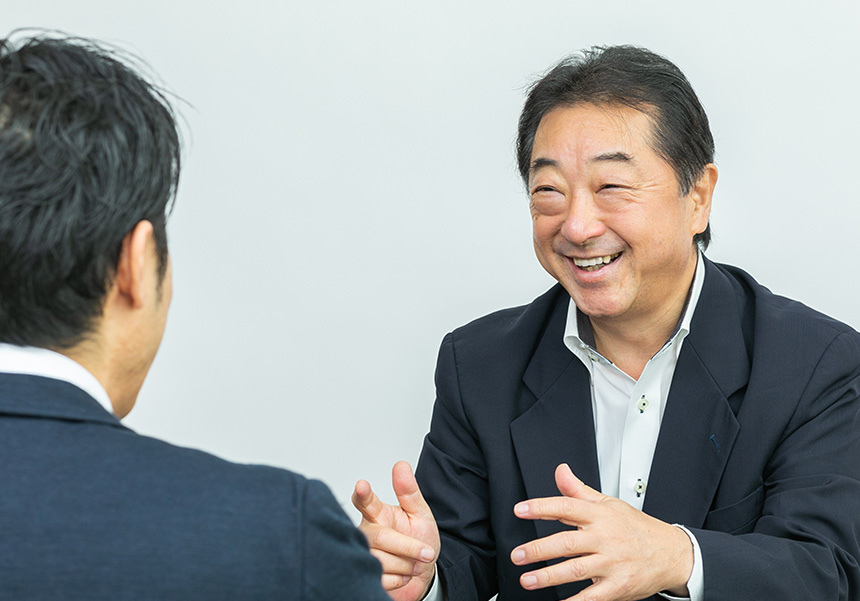 Nakatsuka

First you were shocked by one cup of coffee roasted at the cafe where your parents loved to visit, then you started to roast beans by yourself. Like this, your interest in coffee intensified step by step, right?

Hatakeyama

First of all, I thought what is needed for my best coffee? As the answer, I decided to start roasting by myself. Of course, I do not deny to get roasted beans from other one, but in order to make my own best coffee, I thought it is better to roast beans by myself.
It is always my motivation "want to brew amazing coffee" and "want to enjoy my best coffee". Once I roasted well and brewed out a good coffee, next I came to want someone to enjoy my coffee.

Nakatsuka

The coffee, roasted by myself and brewed by myself is the best, right?
Coffee is a favorite item so I do not think there is only one right way; I think everyone shall has their own theory.
Please tell me what YOUR best coffee is?
Hatakeyama

I named my shop as "Bespoke". Bespoke is a created word to mean custom made. In case of shoe making, first it may start with making a wood pattern. Then, it may go through many processes to make their original and perfect shoes while hearing customers' request. I dream to make such a custom-made coffee then I started my shop with the name of "Bespoke".
Many coffee roasters are selling their recommended coffee beans roasted with their recommended roasting level. But I do not think their recommendation is the best for customers. I think most important thing is to respect "preference" of each customer; someone like light-roast and other one like darker roast even if they like same coffee bean. I always have a dream to be a roaster to stand by customers' preference.
And I focus on roasting to bring out its potential and characters of the beans at the maximum. That is to say, it is important not to bring out a negative taste. Even when you say acidity, for example, in one word, it has both profiles of good and bad. The bad taste shall be kept as less as possible, I think. Under this base, I roast beans to respect customers' preference as much as possible.

Nakatsuka

Of course, coffee taste is dependent on roasting. I think roasting shall be changed its way depends on various factors, such as hardness of beans, its origin, seasons whether it is summer or winter. Besides roasting, I think "brewing" is also important to bring out its taste. If you fail to brew coffee, all become nothing. I think roasting shall be done by concerning about how it will be brewed.
How you have improved your roasting and brewing skills?

Hatakeyama

Though everyone can study about brewing theory at a workshop or a seminar, but I am the man who want to practice by myself so I studied by myself. I finally had my own theory through trial and error such as changing water temperature or changing water volume. First my goal was to improve my skill, but later I found it is not good to have a gap between my best, general best and coffee industry's best. To get the answer, I attended some seminars held by Specialty Coffee Association Japan and tried to find out the standard of general best. At that time, I knew first the existence of such competitions.
It may tend to be self-satisfied in case that everything is done only by myself, but I can be objective when my coffee is judged at the competitions. By this cycle, I brush up my skill to make a taste.
Seized glory
after fighting for three years.
Nakatsuka

It was the brilliant feat to win the two cups both at JBrC and JHDC! The JHDC is the competition of paper brewing and the JBrC is the one that each player competes his/her brewing skill by using self-selected dripper. Why you thought to attend both competitions?

Hatakeyama

It may not be good to say so, but I thought I might get a chance if I attend many competitions… First, I thought that, attended all the competitions that I could try.

Nakatsuka

You also got the 3rd award at JCTC too.

Hatakeyama

Tasting skill is also needed for brewing; I think all skill is for one cup of delicious coffee. As I told you, my goal is to make my best coffee by myself, in order to achieve it, I think I need to be almighty. This was the reason I decided to attend all competitions, and as a result I was lucky to win awards of all skill.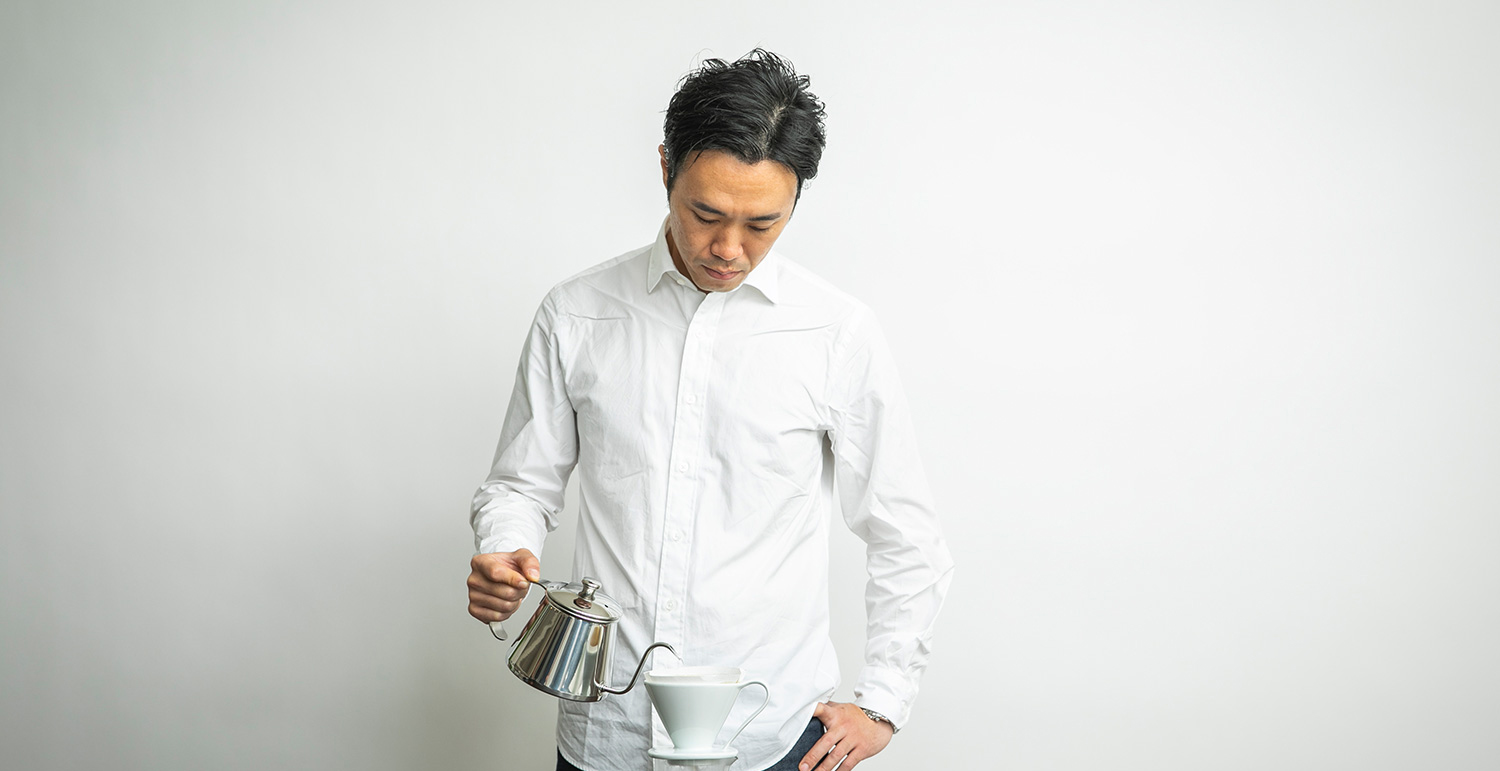 Nakatsuka

It cannot be "by happen" to be Japan champions.

Hatakeyama

To tell the truth, I attended the three competitions two years ago. At that time, I won the second award at JCTC, the third award at JBrC and the eighth award at JHDC. I cleared all preliminary though I could not be champions. In 2018, I might lose my sharpness, maybe? I failed all competitions! This year, in order to be champions, I well prepared to go into the competitions.

Nakatsuka

The competitions have many rules such as limited time and failure points, so you cannot be a higher-ranking winner if you do not practice over and over according to the rules. No one can be a champion without any effort.How you did training for the competitions?

Hatakeyama

Not only to put the rules and timing of deduction and adding points into my mind, I think only who succeed to understand well the answer to "Why the rules are needed for the competitions?" can be a champion so I thought it is most important to understand well the real nature of the rules. After knowing it, I just practiced over and over to brew out my best coffee within the limited time.

Nakatsuka

At the competitions, though almost all players use a single-origin coffee bean but you used the blended coffee. Why you selected the blended coffee?

Hatakeyama

The purification process of coffee beans is roughly divided into "Natural" and "Washed". The coffee beans processed by natural have a characteristic flavor, but I prefer washed better than natural. Though I looked for a washed bean but it has no characteristic and complicated smell because it does not pass the fermentation process; that is, concerning to the point where to say strongness and complex, it may not win against a natural bean. Some judges may evaluate the taste negatively as "Frat" for washed beans. I did try and error to find out an answer then I thought of one good idea to make well-balanced washed coffee beans by mixing two different character's beans. The single origin beans have the taste of the bean itself, but the taste of my original blended-coffee can be made only by me; it might be one of the obvious merits for me because I have thought if I could make the only one taste, so I decided to use blended beans. However, honestly speaking, I was scared because very little players have used a blended coffee so far.

Nakatsuka

I see. By the way, I really appreciate you used our CAFEC paper filter and dripper at JHDC and CAFEC paper filter at JBrC. How you think about our products?

Hatakeyama

Because the material and the shape of CAFEC products are very good to me, and I could brew out my best taste with the CAFEC products, so I decided to use them this time. But after talking with you, Mr. Nakatsuka, I know well your passion and strong preference to coffee then I became to be more deeply attracted to the CAFEC products; I feel "I knew it!"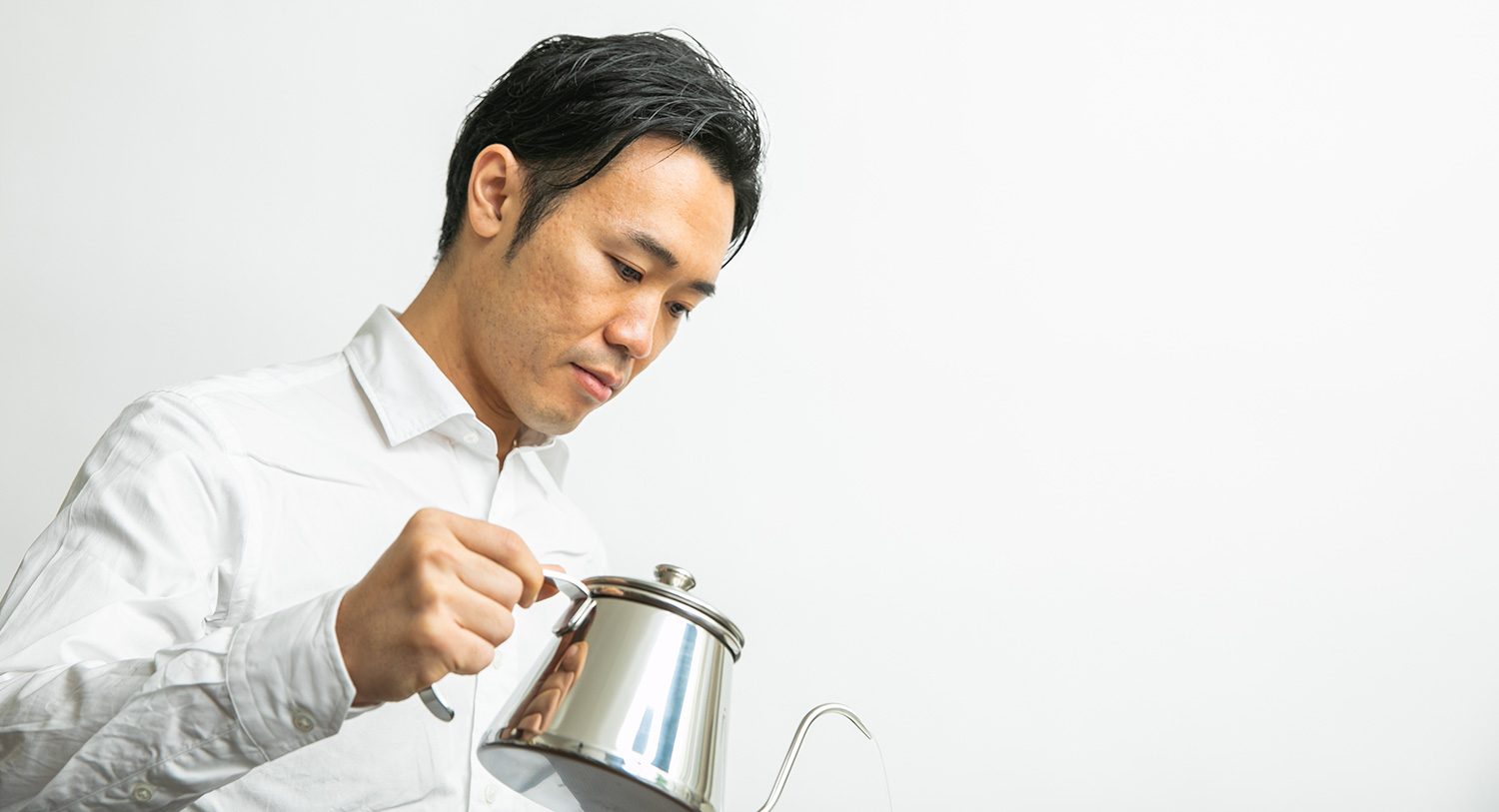 Nakatsuka

You knew what?

Hatakeyama

In fact, I think there is little equipment which is made with deep thought. But the CAFEC equipment is well-made on ribs' shape and length, paper material etc. It is really easy to use for me. First, I just thought "it might be made with some thoughts" but after using them many times I found they are really easy to use. Why they are so user-friendly? I studied the details and found some different parts from other products. Then I believe firmly that the CAFEC products are made fussing over details, and more, after knowing the background of CAFEC and Mr. Nakatsuka, I understand well as "I knew it!".

Nakatsuka

Thank you so much. I guess you have used various kinds of coffee equipment. You think the taste of coffee may be different depends on what equipment you use?

Hatakeyama

The taste of coffee changes also by brewing way. As for the CAFEC equipment, it is very easy for me to control brewing.

Nakatsuka

We have pursued for "an equipment with which everyone can brew good taste of coffee easily" for long time, so I have unwavering confidence that our products have outstanding features on usability. Since the launch of CAFEC three years ago, our products have become popular little by little and have sponsored equipment for the competitions, but you are the first man who won the cups with our CAFEC products. It added my happiness!How did you feel when you won the two cups?

Hatakeyama

From now on, I need to behave as a champion and I think my influence of remark will become bigger than before. And more, I have to contribute to diffusion of coffee culture and industry. What big thing for me is to challenge to World Brewers Cup. As you know, only one Japan champion can attend the competition, so I feel much pressure to attend it as Japanese representative.

Nakatsuka

You have to do presentation in English at the World Brewers Cup; to explain all things how the goodness of beans, of equipment, of taste in English. Unless to say, you must study English hard, but what other things you are preparing for?

Hatakeyama

The Brewers Cup has two kinds of competitions; one using same coffee bean which is provided at that day, and another one doing presentation with the coffee bean carried in by me. To know how utilize the provided bean to maximum, what I can do is to practice only. But as for my selected beans, I want to select best bean by consulting with coffee farmers.
You can enjoy coffee
as you like!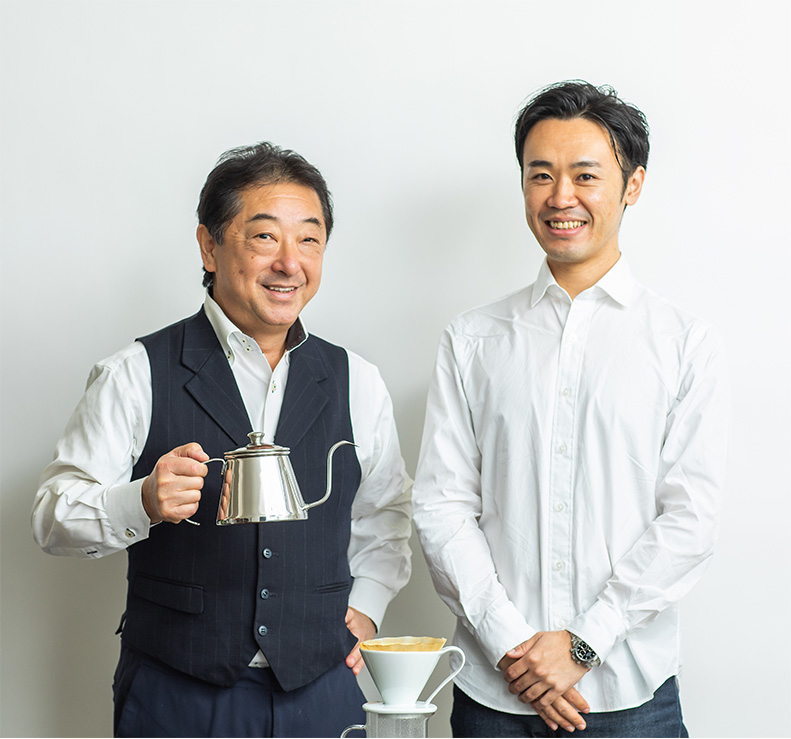 Nakatsuka

Lastly, would you please let me know what you expect for CAFEC if you have any?

Hatakeyama

I want you not to change anything; that is, want you to continue to care for manufacturing good things.

Nakatsuka

The catch-copy of CAFEC is "Happiest smile over coffee ahead of there". What I mean by "ahead of there" is "at home". I want to help people to enjoy life with delicious coffee at home, to have a happy time with family with coffee. It does not need to be the coffee itself. For example, how about enjoying brewing itself? Brewing by measuring temperature with thermometer, or with scale? Trying different brewing way? Or roasting by youself? I think it is fun to know its process one by one. I always continue to think about what products we shall develop to see "happiest smile" of people.
At our restaurant "Hyakuzen-no-yume" and the café "Youmeca", all the coffee served to guests are brewed by hand-drip, not by coffee machine no matter how busy we are. If you enjoy delicious coffee at a restaurant and a cafe, I think you may want to enjoy coffee at home too, right? Though it may be steady and slow effort of us, but I hope much more people can enjoy coffee at home in the future too.
Hatakeyama

Still, there are not so many places in town where we can drink delicious coffee, and many people may look around for such a place. I call such people as "Coffee lost people" and sometimes I also become such lost people. One of my mission, I think, is "to let everyone drink delicious coffee at any time at anywhere"; I want to support for making an operation system for eating places, and more, as a new way of thinking, I want to propose new situations to drink coffee, such as a coffee on mountain. I guess many mountain climbers drink coffee on mountain, if the coffee drunk on mountain is very delicious, it may be a wonderful experience for them.
I want to propose many scenes and timing when people enjoy coffee.

Nakatsuka

Agree. Once experienced a wonderful time with coffee, you may want to drink coffee every day at home.
After you won cups, you got many opportunities to send your message to many people, right?

Hatakeyama

Mercifully, I got much more opportunities to meet with many different business people and to do the educational business and training business for barista. I think this is thanks to becoming champions. Of course, the coffee business is important for me, but it is also important to have connections with other fields and other industries; I believe it is a big plus in coffee industry too. I think this is my mission.

Nakatsuka

From now on, especially what message you want to pass on to coffee lovers?

Hatakeyama

Among my customers and the attendees of my coffee seminars, there are many people who think "I love coffee but do not know it well" or "Must brew coffee following the manual exactly". But I think you can enjoy brewing coffee as you like, so I want to push all coffee lovers' back to take their first step by telling the message "you can enjoy coffee more freely!