OTEMAE COFFEE
Produced by CAFEC
MORE
COFFEE SERVER

Coffee Server
(Made of Tritan)
CAFEC coffee server has scale marks by cups; thanks to the cup numbers' indication, it is easy to finish brewing when you get your required cups. It is made of Tritan; it is strong, not easy to be damaged.
PRODUCTS
Beaker Server

[TBS-400]
400ml (for 1-2 cups), 24pcs/ctn
No Lid

[TBS-600]
600ml (for 1-4 cups), 24pcs/ctn
No Lid

Coffee Server

[TCS-400]
400ml (for 1-2 cups), 24pcs/ctn
With Lid

[TCS-750]
750ml (for 2-5 cups), 24pcs/ctn
With Lid

[NTCS-400]
400ml (for 1-2 cups), 24pcs/ctn
Without Lid (aligns with EU regulations)

[NTCS-750]
750ml (for 2-5 cups), 24pcs/ctn
Without Lid (aligns with EU regulations)
Pour Over Holder
Bamboo Dripper Holder
Why a dripper holder is needed?
There are many coffee lovers who want to use a scale when they brew coffee. However, if they measure total weight of the brewed coffee at the condition that a dripper is directly on a server, the water volume left in the dripper is also measured as the volume of the brewed coffee.
CAFEC recommends to remove a dripper soon after you get a required coffee volume even if some water is left in the dripper. It is because CAFEC thinks the volume of coffee powder for one cup of coffee is just for ONE CUP; the liquid brewed from the dripper bottom after you get a required cup(s) already changes "off-flavor".
However, for those who still want to use a scale, we designed the pour over holder; not to put a dripper on a server directly, but put a dripper on the holder. You put a server on a scale then you can measure the brewed coffee volume only. The pour over holder was born based on CAFEC's brewing theory.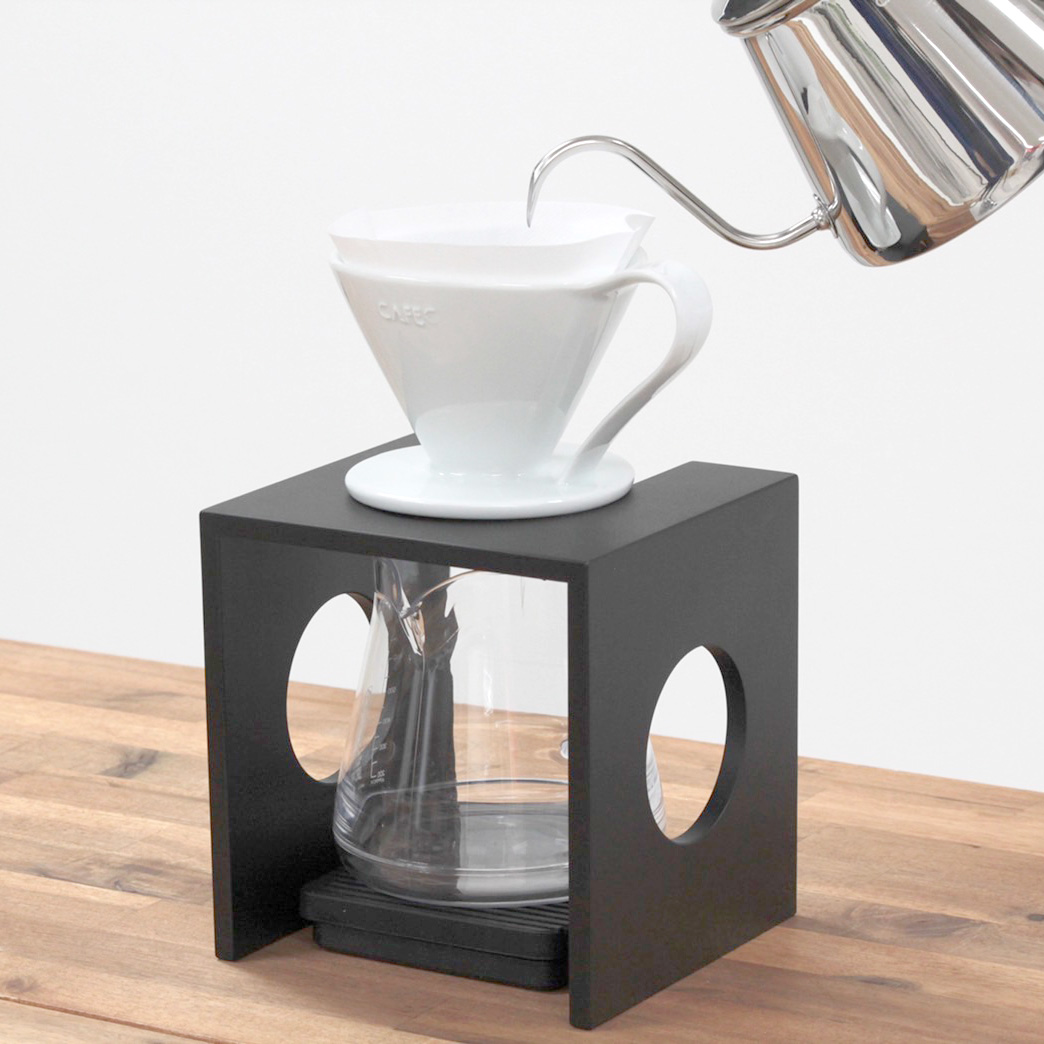 CAFEC's Contribution to SDGs :
Why "Bamboo"? Why "Bamboo powder"?
1. Regional Contribution Activities

The head office of CAFEC is in Beppu city, Oita. We love our city. Beppu is renowned for Bamboo crafts.

CAFEC always think about how we can contribute to handling over the bamboo crafts in the future. From the viewpoint of "Regional revitalization", we think it is important to spread works and products to outside of the area. When CAFEC thought to make a pour over holder, we had in mind to use "Bamboo" as the material.

CAFEC wants to introduce the Beppu Bamboo crafts all over the world by launching this pour over holder.
2. Contribution to Preservation of Global Environment: Reduce Unattended Bamboo Grove

In Japan Kyushu area (south part of Japan), many bamboo groves are left unattended, and it seriously affects the environment because it threatens the right to sunlight, may cause landslide disasters and/or ecological destruction. The growth of bamboo is very fast, and it enlarges the growing area by rhizome; its growth is disordered and cannot be controlled.

You may say "it can be solved if much volume of bamboo shall be used for bamboo crafts", but this cannot be of help. It is because the bamboo which can be used for bamboo crafts is the one with 3~5 ages as the suppleness is required for bamboo works. The bamboo which is left in the unattended bamboo grove is more than 5 ages so unfortunately, it can be used for nothing as it is.

In order to solve the problem of this unattended bamboo grove, one local company in Beppu succeeded to develop the "Bamboo Charcoal Powder" ; superfine particles having a diameter of 5 micron meter. They cut the unatteded bamboo and made it to superfine particles' charcoal powder using their patented technology. They stick to "made in Kyushu, organic, no chemical fertilizer"; you can also eat this charcoal powder.

CAFEC wanted to be a help to solve this problem too, so decided to launch the bamboo pour over holder with the coating of this bamboo charcoal powder.
PRODUCTS
Bamboo Pour Over Holder

[BDS-N](Natural) / [BDS-BK](Black)

4pcs/ctn