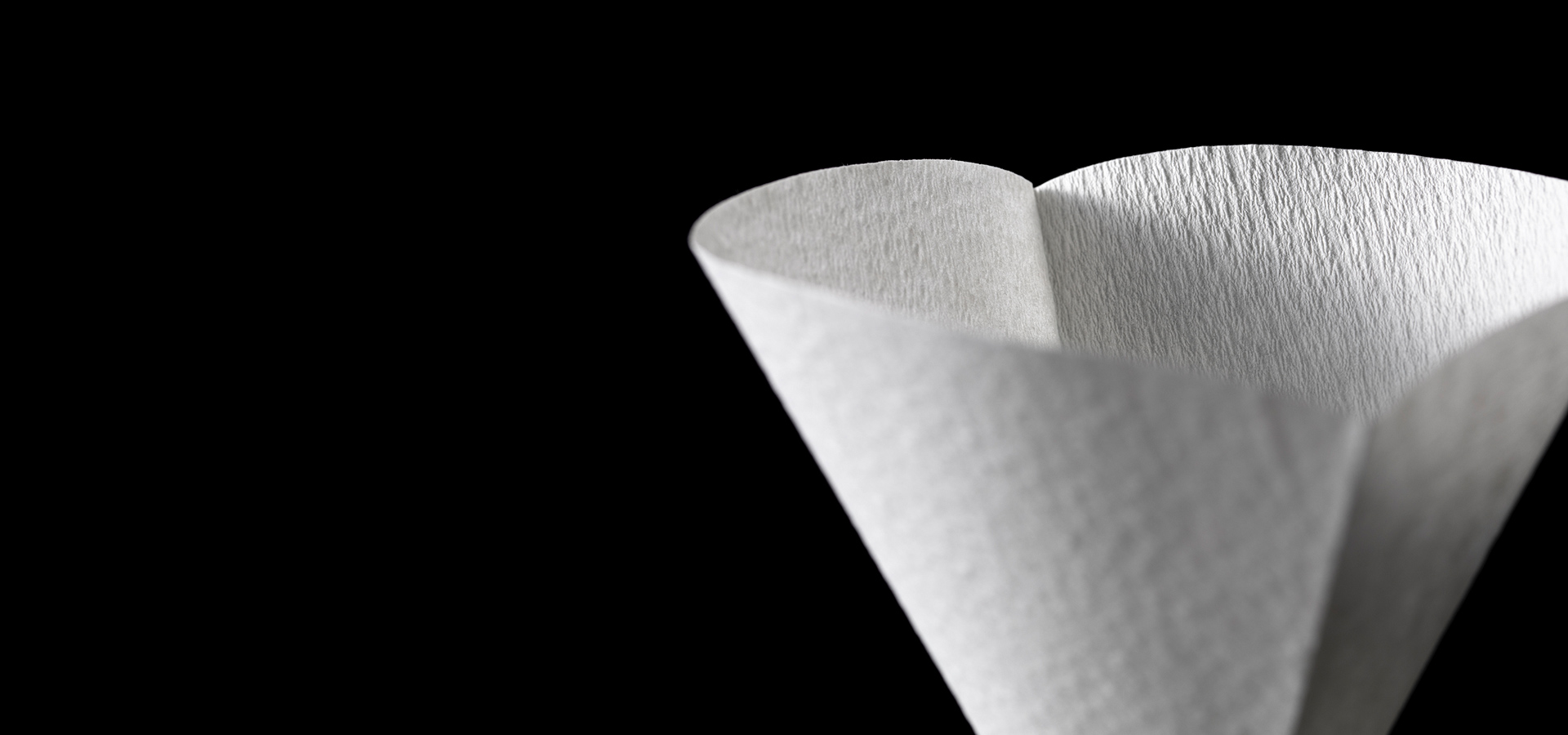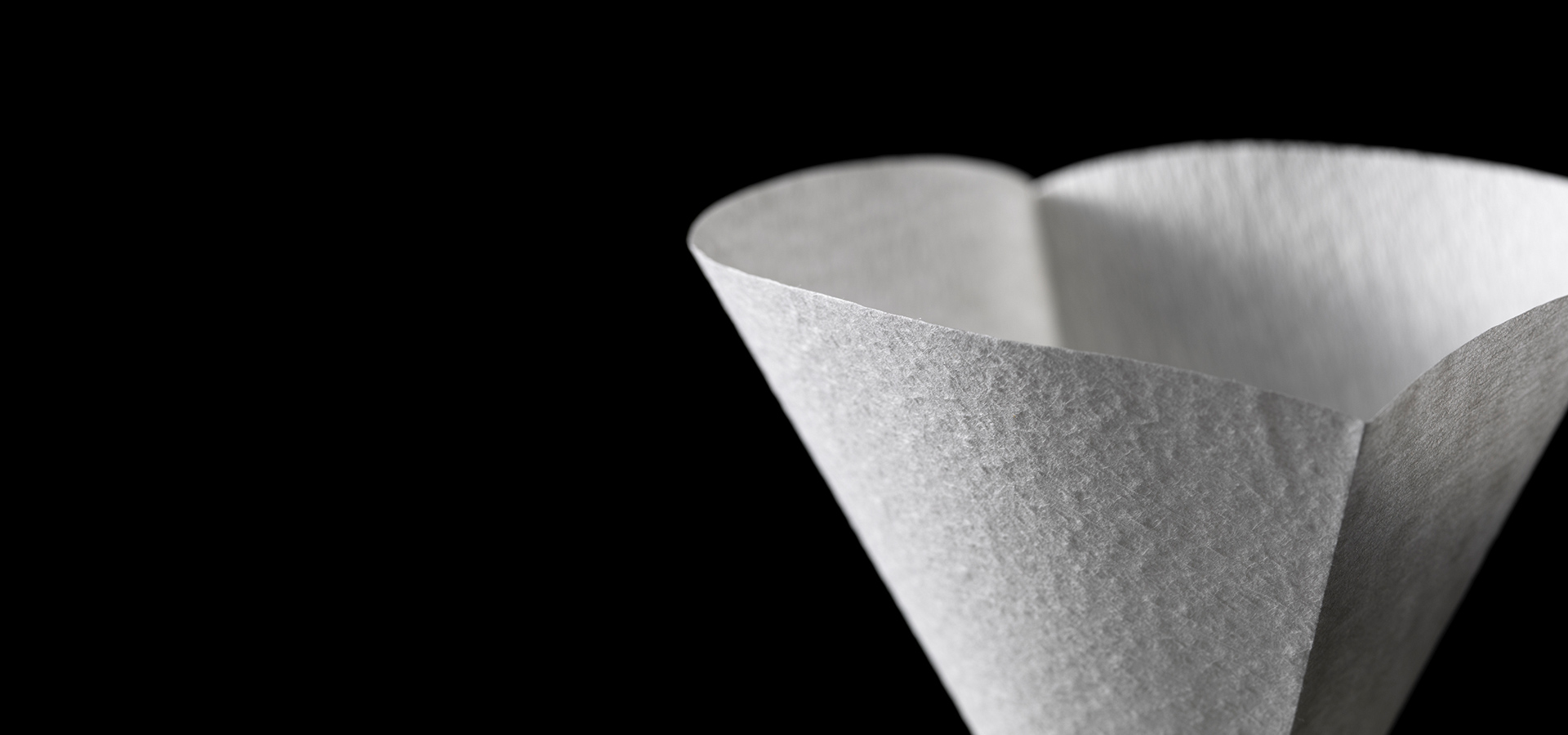 Paper,
but not just paper
CAFEC Abaca & Traditional Paper Filters
There are many kinds of coffee filter paper in markets, but it would be a big mistake if you think it is just a paper and there is not much difference even if which paper you use. Our CAFEC filter paper has "Two-Side Crepe". Though another normal paper has crepe on one-side only but the CAFEC paper keeps Two-Side Crepe by our original papermaking technology (Air-through dry). Thanks to the best balance of the height of crepe on both sides, it can keep enough air layer between paper and dripper so water can be flowed in ideal speed. That is, "Two-Side Crepe" can be said a proof of good filter paper. It is a paper, but not just a paper!
FILTER PAPER
Original Papermaking technology realizes
"Two-Side Crepe" Air Through Dry
In normal papermaking process, paper is dried on a heating roller so crepe on one side is pressed down. On the other hand, CAFEC paper added crepe on both sides dried by hot blast, not pressed on a heater, so the crepe on both sides of paper can be kept as it is and enough height of crepe is maintained. Thanks to the best height balance of Two-Side Crepe, almost all fine coffee powder is attached on the crepe, so you can enjoy a clear cup of coffee without muddiness. Moreover the Two-Side Crepe allows water to flow smoothly.
Advantage of CAFEC paper filter
Paper-making of CAFEC paper filter

Air Through Dry Wet paper is dried by hot air in a flat state,
so two side crepe is kept after dried well.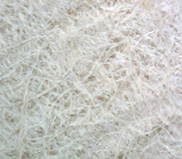 The texture of CAFEC paper mesh is fine, so water can flow stably and speedy.
Paper-making of normal paper filter

Wet paper is dried on the rotary drum by adding pressure, so crepe at the drum side is crushed then a paper has only one side crepe. And more, the height of crepe is also lower because the paper is dried by being stretched.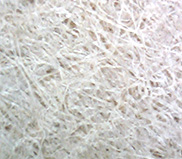 The texture of another paper mesh is not fine, so water cannot flow stably; water might be collected.
Two kinds of Filter Paper
Non-bleached (Brown)
For those who prefer natural taste

Oxygen-bleached (White)
For those who want to keep aroma of coffee
Production Process of Wood Pulp
Wood chips

Stream Solutions

Undyed Pulp

Decolation

Refined Pulp
FSC Certificate

FSC Certificate is a proof to show all people related with maintaining forests as one group; such as those who keeping forest, manufacturing , selling, and using wood products. CAFEC also have a filter paper with the FSC certificate.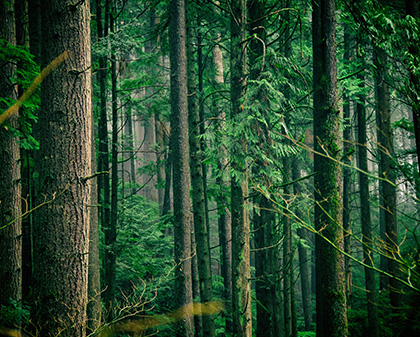 Roasting Level Special Paper
for Coffee
"It is said that taste of coffee is fixed by roasting, but it is not the final goal. To control brewing speed and water temperature are also very important."
The founder of CAFEC; Shigeji Nakatsuka, as the man who has done roasting and hand-drip coffee by himself for years, always think "how easily enjoy delicious coffee at home?" and this also becomes his dream to let everyone enjoy coffee easily at home.
"Easily…at home…how…?"
As a pioneer of high-qualitied paper filter, Nakatsuka wanted to find an answer with paper to this question; he continued to study paper construction and at last succeeded to develop three kinds of paper filters to control each proper brewing speed for light-roast, middle-dark roast and dark roast by changing the drying process of paper making.
The paper filters are epochal products which only CAFEC can make, who has pursued paper quality and good taste of coffee for many years!
"Want to see your smile by daily coffee!" CAFEC pass this thought on to you.
Light Roast
Coffee Paper Filter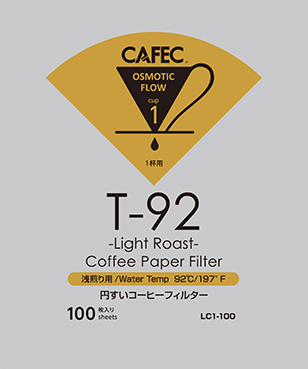 For Aroma & Clean Cup
- Thickness-1: Thickness 0.15 mm
- Density: High
- One-Side Crepe (No crepe on inside and crepe on outside)
There is no crepe inside paper, so the inside surface area is small. Coffee fine powders attach within this small area, so little water path is left then water is building up inside paper filter. By building up water, plenty of aroma comes out. Further more, thanks to the outside crepe, the coffee liquid came outside flows smoothly.
Because its paper density is high, almost all fine powder is removed perfectly. You can get a clean cup of coffee.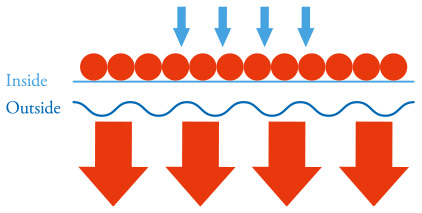 Medieum-Dark Roast
Coffee Paper Filter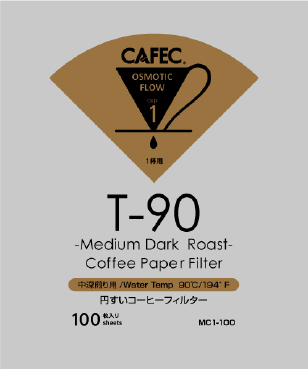 For Balance & Flavor
- Thickness-3: Thickness 0.28 mm
- Density: Low
- Two-Side Crepe (Good balanced height)
The well-balanced Two-Side Crepe let water flow smoothest. The surface area is largest among the three papers so water path can be kept until last even if all fine powder is attached. Smooth water flow makes a cup with well-balanced rich flavor.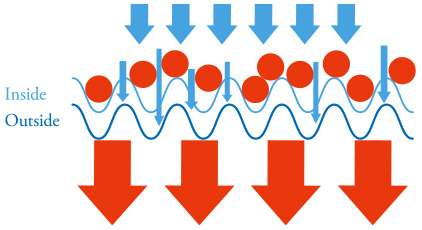 Dark Roast
Coffee Paper Filter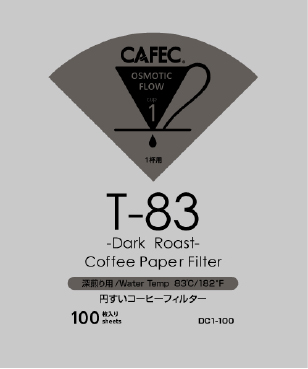 For Body & Sweetness
- Thickness-2: Thickness 0.22mm
- Density: Middle
- Two-Side Crepe (Low-height)
This paper has the "Two-Side Crepe" but the height of crepe is set to be lower. The surface area is a little larger than that of One-Side Crepe, that is, the adhesion area for fine powder is also larger. In the first half of brewing, because adhesion of fine powder is not so much so water can flow smoother, but in the last half, its adhesion becomes larger then it applies the brakes to water flow.
The first fast and later slow water flow finish up the coffee with body and sweetness.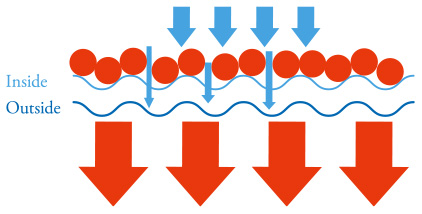 PRODUCTS
ABACA Filter Paper
It is made by the non-wood material ABACA (Manila hemp) and wood-pulp based on a forestation project. The ABACA filter paper can be said an eco-friendly filter paper. It has good air and liquid permeability, toughness, and elasticity. Of course, it is made in Japan.
Advantage of ABACA
The ABACA fiber is four times as strong as that of normal wood pulp though it is half thin of wood fiber. Thanks to the advantages, many professionals also appreciate the high quality of our "ABACA filter paper".
JHDC Authorized Product
It is the filter paper authorized by JHDC(Japan Hand-Drip Championship), and is rated high as a paper which can brew out "high-qualitied coffee with good acidity".
Cone-shape

Abaca filter paper (white)

[AC1-100W]
Cup1 (for 1 cup) 100pcs/pack, 80packs/ctn
[AC4-100W]
Cup4 (for 2-4cups) 100pcs/pack, 80packs/ctn

Abaca filter paper (brown)

[AC1-100B]
Cup1 (for 1 cup) 100pcs/pack, 80packs/ctn
[AC4-100B]
Cup4 (for 2-4cups) 100pcs/pack, 80packs/ctn
[AC1-40B]
Cup1 (for 1 cup) 40pcs/pack, 200packs/ctn
[AC4-40B]
Cup4 (for 2-4cups) 40pcs/pack, 200packs/ctn

Traditional filter paper (white)

[CC1-100W]
Cup1 (for 1 cup) 100pcs/pack, 80packs/ctn
[CC4-100W]
Cup4 (for 2-4cups) 100pcs/pack, 80packs/ctn

Traditional filter paper (brown)

[CC1-100B]
Cup1 (for 1 cup) 100pcs/pack, 80packs/ctn
[CC4-100B]
Cup4 (for 2-4cups) 100pcs/pack, 80packs/ctn

Trapezoid

Abaca filter paper (white)

[AB101-100W]
101 (for 1-2 cups) 100pcs/pack, 80packs/ctn
[AB102-100W]
102 (for 3-5cups) 100pcs/pack, 80packs/ctn

Abaca filter paper (brown)

[AB101-100B]
101 (for 1-2 cups) 100pcs/pack, 80packs/ctn
[AB102-100B]
102 (for 3-5cups) 100pcs/pack, 80packs/ctn
Roasting Level Special Paper Filters

In order to let water flow at an ideal speed for each roasting level, each paper is made by different paper structure. Water speed is adjusted automatically thanks to the different structure.

Roasting Level Special Paper Filters

Light Roast

[LC1-100W]
Cup1 (for 1 cup) 100pcs/pack, 80packs/ctn
[LC4-100W]
Cup4 (for 2-4 cups) 100pcs/pack, 80packs/ctn

Medieum-Dark Roast

[MC1-100]
Cup1 (for 1 cup) 100pcs/pack, 80packs/ctn
[MC4-100]
Cup4 (for 2-4 cups) 100pcs/pack, 80packs/ctn

Dark Roast

[DC1-100]
Cup1 (for 1 cup) 100pcs/pack, 80packs/ctn
[DC4-100]
Cup4 (for 2-4 cups) 100pcs/pack, 80packs/ctn
DEEP45 Filter Paper

It is the special filter paper for Deep Dripper. The bottom angle is 45°to fit in that of the Deep Dripper, is narrower than that of a normal cone-shaped filter paper. This is the filter paper made only by CAFEC as the pioneer of filter paper manufacturer.

DEEP45 filter paper (white)

[DDF-100W]
For 3-7cups, 100pcs/pack, 80packs/ctn