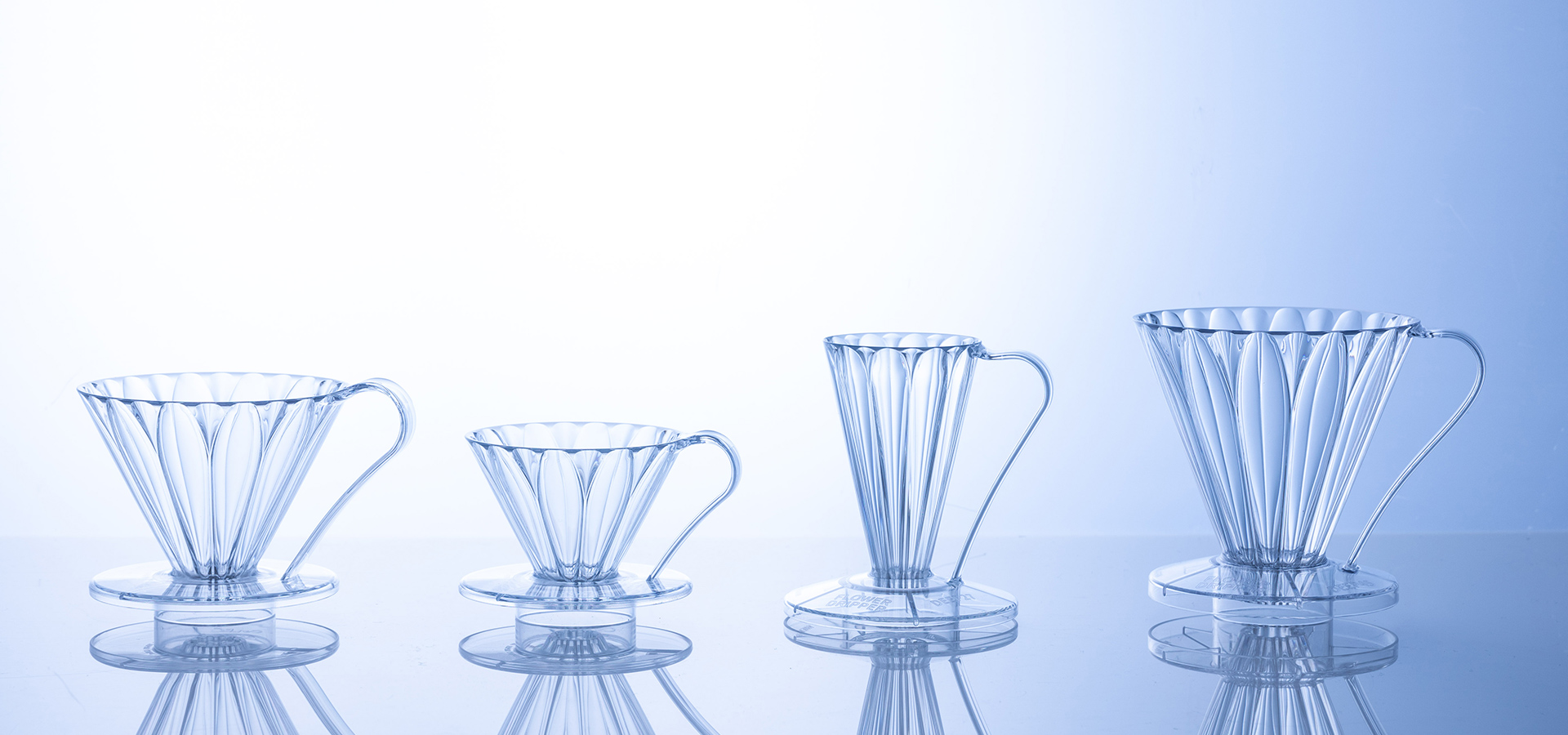 Flower form? It is the best.
What is the best dripper for bringing out good flavor of coffee at the maximum?
As the world first developer of cone-shaped filter paper, CAFEC launched the "Flower Dripper" as the answer to the question after long time study.
The revolutionary idea to make gouges into the inner surface of dripper succeeds in keeping enough air layer between paper and dripper. Thanks to it, coffee powder can expand fully like in a nell dripper. And more, a deep filtering layer is also formed then as much as good taste of coffee can be brought out.What is good for the best taste of coffee brewed by filter paper?
This flower form is our answer.
FLOWER DRIPPER
Best form for Best flavor
Flower form
The flower dripper keeps deep filtering layer by making water circulation from center to outside. To prevent unpleasant taste from going into coffee liquid, faster and smooth water flow is required. After long time study, CAFEC reached this ideal flower shape at last! Because water is not stayed in the dripper, the water volume poured from top and brought out from the bottom can be kept same. You can enjoy best flavor of coffee without unpleasant taste.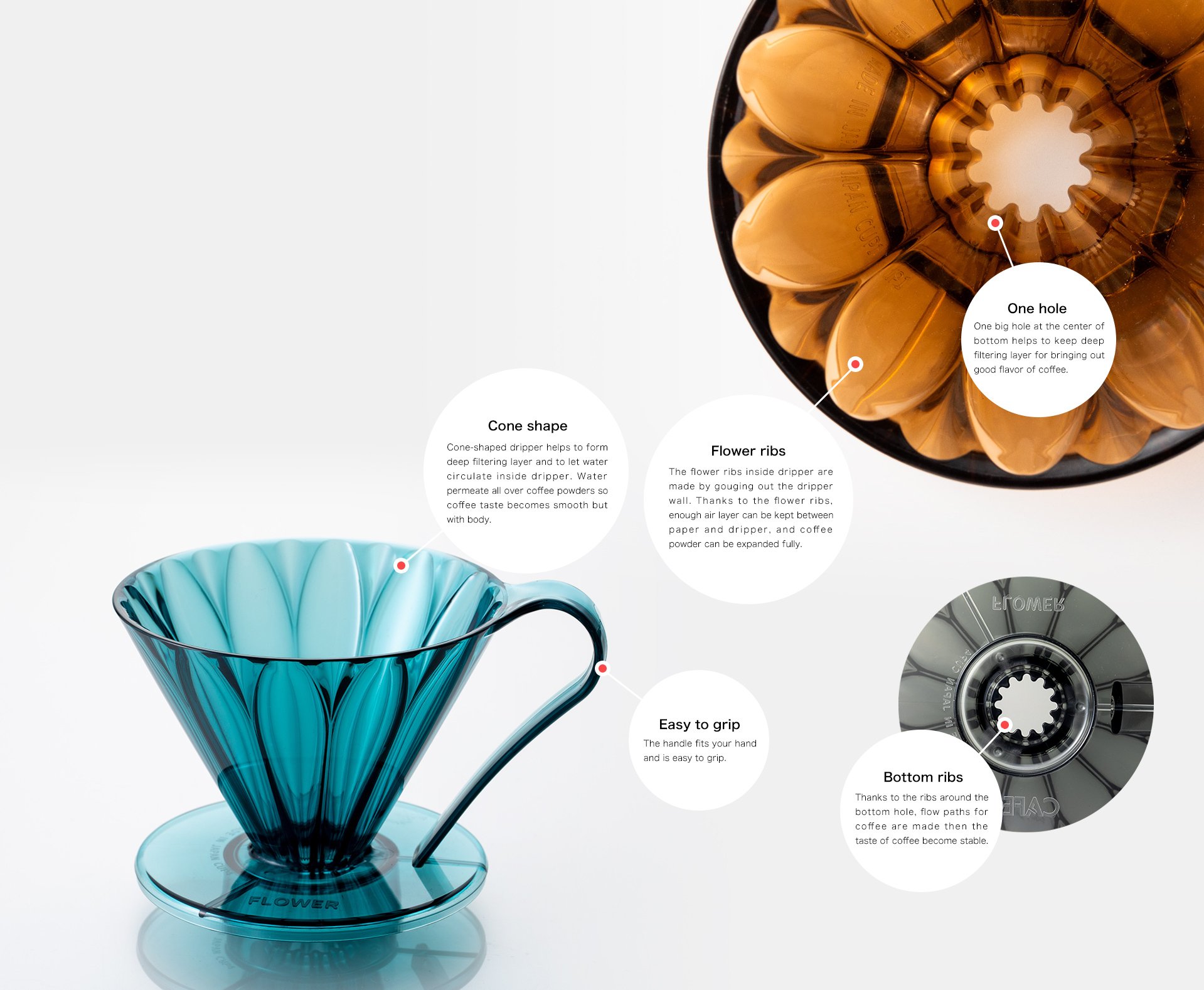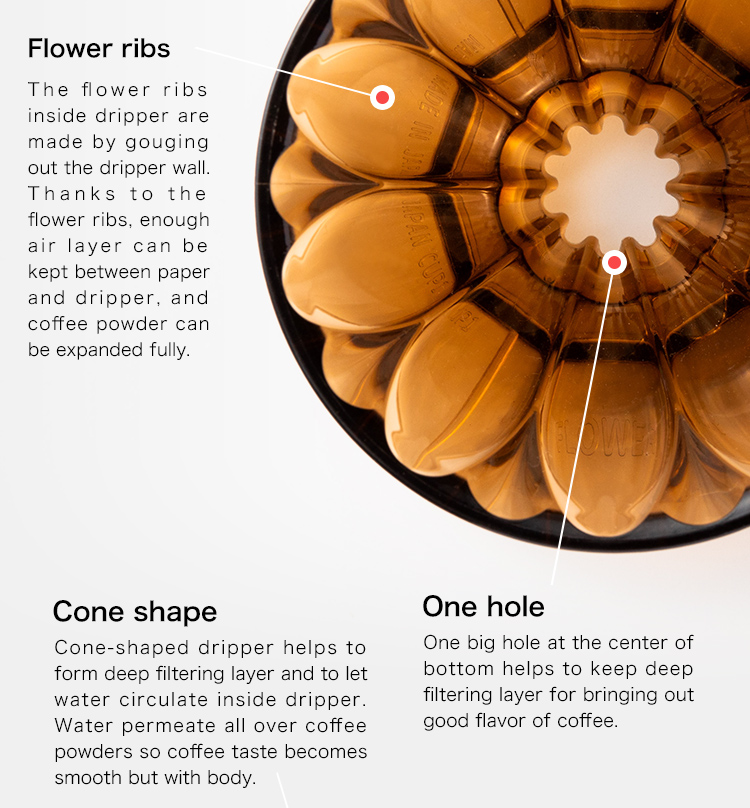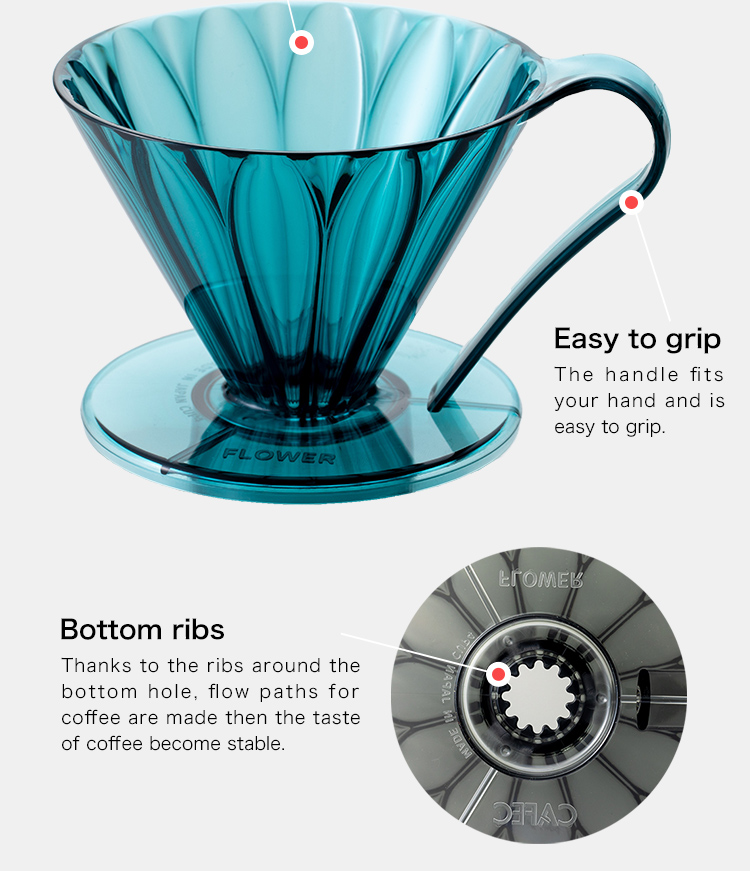 High-quality
"Arita ware"
Thin, light and smooth touch, its beautiful tone of colors…
Its refined appearance is perfect just putting in your kitchen.
What the Arita ware is?
It is a representative porcelain brand of Japan with about 400 years' history. High-quality porcelain clay and stone powder are mixed to form an article, and it is fired at very high temperature of 1300°. It is hard like mineral, and its texture is very fine.
Arita ware is the finest Japanese traditional article loved in all over the world.
DEEP DRIPPER
Dripper beyond the dripper
Deeper, for much more flavor
Somehow want to form much deeper filtering layer than that by Flower Dripper!
Deep Dripper is our answer finally reached from our spirit of inquiry.
The bottom angle of a normal cone-shaped dripper is 60°, on the other hand, that of Deep Dripper is 45°. By narrowing the bottom angle to 45°, we got the unprecedented deeper shape for the deepest filtering layer!
Everybody, even a hand-drip beginner can brew a good taste of coffee easily by this Deep Dripper. It is new standard in the future.
45: Bottom angle of 45°

"The time that water pass in coffee powder is longer, much more coffee flavor is brewed out."- this is the theory of deep filtering layer which used to be said to be done only by a nell dripper. However, CAFEC succeeded to form such deeper filtering layer by the dripper for paper "Deep Dripper". It is all thanks to the bottom angle of 45°. CAFEC believe this is the best dripper for ultimate flavor of coffee.

6: Hexagonal shape

Thanks to the hexagonal shape, enough air layer is kept between paper and dripper. And the dot ribs also help to have air layer. The thicker air layer allows coffee powder expand fully.

3 to 7: For 3-7 cups, just selected one size

Amount of coffee is larger, deeper filtering layer is formed. CAFEC selected the best size "for 3-7 cups". Only this size, it is our answer.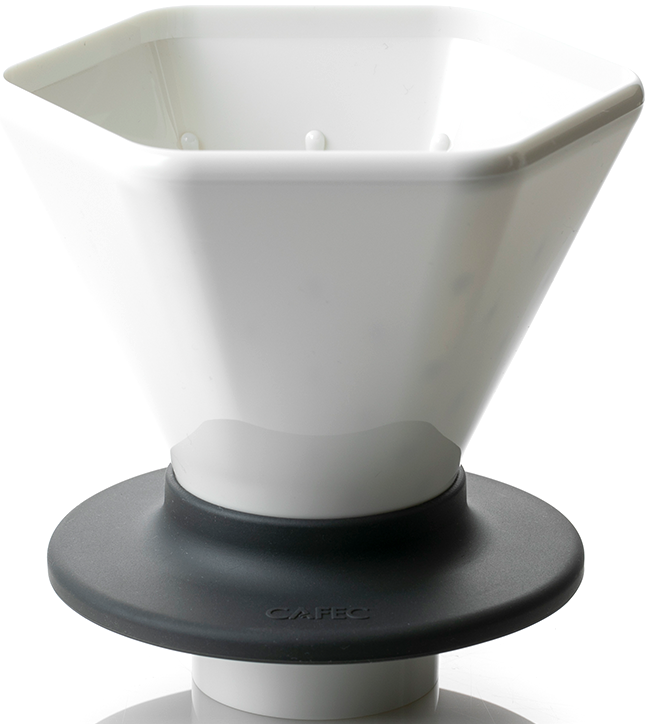 Deliciousness of coffee brewer
by the Deep Dripper
is verified by the taste analytical test.
Cone-Shaped in-house dripper A
Trapezoid in-house dripper B
Deep Dripper
Selection from the "analytical test report" by Nippon Central Laboratory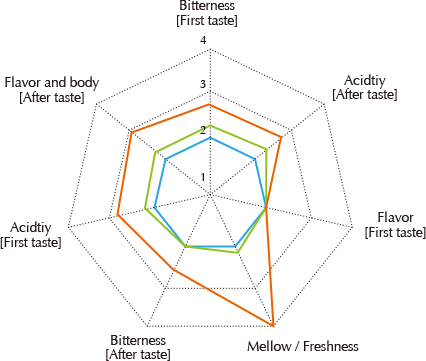 Arita ware
trapezoid dripper
We have two kinds of Arita ware trapezoid dripper; for 1~2 cups with one hole and for 3~5 cups with two holes. By opening different number of holes depends on the dripper size, your brewing can be stable even with a slight change of water volume to be poured.
And more, the projection around the bottom hole allows coffee liquid flow smoothly by reducing surface tension.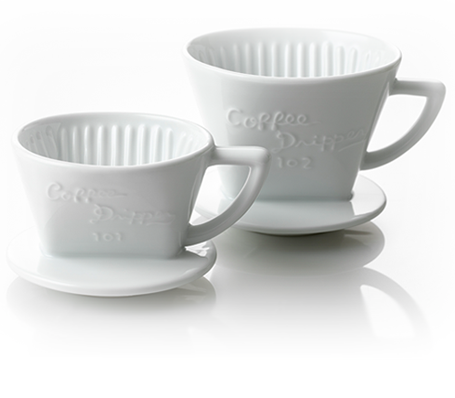 Comparison Table of Dripper
Flower Dripper
Deep Dripper
Trapezoid Dripper
Size
Cup1 (for 1 cup)
Cup4 (for 2~4 cups)
For 3-7 cups
101 (for 1~2cups)
102 (for 3~5cups)
Shape
Cone-shape
with 60°bottom angle
Cone-shape
with 45°bottom angle
Trapezoid
Material
Arita ware / AS resin
Arita ware / AS resin
Arita ware
Filter
CAFEC cone-shaped
Deep 45 special filter
CAFEC trapezoid filter
Paper
Filter paper
Paper
Paper

Beaker server
The beaker server has scale marks by cups; thanks to the cup numbers' indication, easy to finish brewing when you get your required cups. It is made of heat-resistant glass, and corresponding to microwave oven.
PRODUCTS
Flower Dripper

Arita ware flower dripper (white)

[CFD-1WH]
Cup1 (for 1 cup), 24pcs/ctn
・1pc white measuring cup is attached.

[CFD-4WH]
Cup4 (for 2-4 cups), 24pcs/ctn
・1pc white measuring cup is attached.

Arita ware flower dripper (pink)

[CFD-1PI]
Cup1 (for 1 cup), 24pcs/ctn
・1pc pink measuring cup is attached.

[CFD-4PI]
Cup4 (for 2-4 cups), 24pcs/ctn
・1pc pink measuring cup is attached.

Arita ware flower dripper (yellow)

[CFD-1YE]
Cup1 (for 1 cup), 24pcs/ctn
・1pc yellow measuring cup is attached.

[CFD-4YE]
Cup4 (for 2-4 cups), 24pcs/ctn
・1pc yellow measuring cup is attached.

Arita ware flower dripper (green)

[CFD-1GR]
Cup1 (for 1 cup), 24pcs/ctn
・1pc green measuring cup is attached.

[CFD-4GR]
Cup4 (for 2-4 cups), 24pcs/ctn
・1pc green measuring cup is attached.

Arita ware flower dripper (blue)

[CFD-1BL]
Cup1 (for 1 cup), 24pcs/ctn
・1pc blue measuring cup is attached.

[CFD-4BL]
Cup4 (for 2-4 cups), 24pcs/ctn
・1pc blue measuring cup is attached.

Plastic flower dripper

[PFD-1]
Cup1 (for 1 cup), 48pcs/ctn
・1pc white measuring cup is attached.

[PFD-4]
Cup4 (for 2-4 cups), 48pcs/ctn
・1pc white measuring cup is attached.

Deep Dripper

Arita ware deep dripper PRO (white)

[DA-45W]
For 3-7 cups, 18pcs/ctn

Plastic deep dripper PRO

[DD-45]
For 3-7 cups, 24pcs/ctn

Trapezoid Dripper

Arita ware dripper (white)

[G-101W]
101 (for 1-2 cups), 24pcs/ctn

[G-102W]
102 (for 3-5 cups), 24pcs/ctn

Arita ware dripper (brown)

[G-101BR]
101 (for 1-2 cups), 24pcs/ctn

[G-102BR]
102 (for 3-5 cups), 24pcs/ctn

Arita ware dripper (orange)

[G-101OR]
101 (for 1-2 cups), 24pcs/ctn

[G-102OR]
102 (for 3-5 cups), 24pcs/ctn

Beaker Server

Beaker server

[BS-300]
300ml (for 1-2 cups), 24pcs/ctn

[BS-600]
600ml (for 1-4 cups), 24pcs/ctn

[BS-1000]
1000ml (for 1-6 cups), 24pcs/ctn